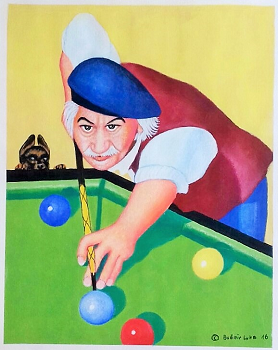 Artists are artists. Mostly amazing and interesting people who, like all of us, have their peculiarities. A character on its own. Artists bring this into their art and express how they see or feel the world. The viewer's perception is what art makes into art. The artist's self-perception is revealed sometimes more or less. In any case, it is something special to deal with art. Art enables us to quickly forget the routine of everyday life for a short moment, so to speak
We will surely see many works by this artist. Mr. Budimir is full of energy and ideas.
Facebook Mr Budimir.
This might be interesting as well
Town Vela Luka: Most beautiful beaches and coves. " Today, Vela Luka is home to many artists, painters and sculptors, poetry and poets. About thirty artists-amateurs work and live here and "the most beautiful cove in the whole world " or "najlipša vala na svitu", how they call Vela Luka, is where many famous artists were born, e.g. Izvor Oreb, a sculptor, a painter and a poet, Danijel Dragojević, a poet, late academic Šime Vučetić, Ante Marinović, a sculptor, Gorki Žuvela, a conceptual artist and well-known singers Oliver Dragojević and Jasna Zlokić." Source
Pula Museum
"The museum collects works of art created in the second half of last century until the latest work of recent artists. MCAI represents an open meeting place of multiculturalism and, above all, to be a leading cultural and art institution of Istrian artists." Source
Stay fascinated.